In 2018, the Federal Government announced its plans to make certain natural therapies ineligible for private health insurance rebates. Among these was Pilates. Our Physio Exercise Sessions draw from elements of Pilates and remain health fund rebatable, however, we are no longer able to use the name "Pilates" for these sessions.  We are introducing a group fitness style Pilates Circuit and these classes are designed for intermediate & advanced participants. These classes cannot be claimed with private health insurance.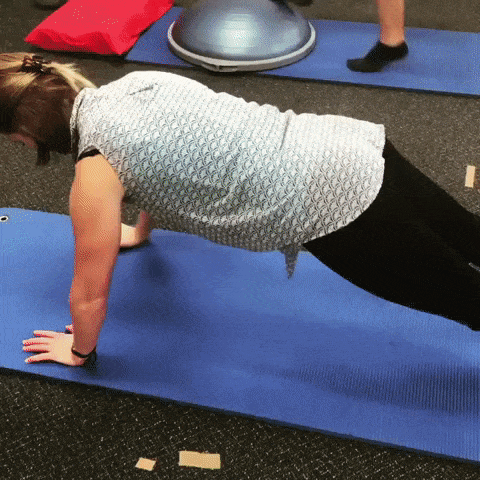 Please see the blow frequently asked questions regarding these changes, courtesy of the Australian Physiotherapy Association (APA). You can also visit their website for more information or speak to one of our friendly staff members.
What prompted these changes?
It's important to understand that the Department of Health – not private health insurers – introduced the review of natural therapies in its campaign to remove rebates for low-value care. Private Healthcare Australia has been very supportive of physiotherapy.
Physiotherapy is recognised by all parties as high-value, evidence-based care. Therapeutic exercises delivered by physiotherapists are still eligible for rebates.
What about Clinical Pilates?
The Department of Health does not differentiate between Pilates and clinical Pilates and has removed rebates for sessions that are solely Pilates. Therefore rebates will not be paid for clinical Pilates and clinical Pilates should not be referenced in your physiotherapist's clinical notes. All parties have agreed that physiotherapy is physiotherapy, and your physio exercises classes can include exercises drawn from Pilates but must not consist solely of Pilates.
How regularly do 1:1 re-assessments need to occur?
The reform does not impact the basis of good physio practice, which includes regular assessments and adjustments to treatment plans based on clinical reasoning and justification. Your physio should continue to assess their patients on a case-by-case basis. Some private health insurers require at least yearly reviews.
How is receipting treated?
Receipting, like all advertising and promotion of sessions, should reflect that they are physio exercise classes and not Pilates. All billing and receipting should reflect the correct item codes.
Is there a grace period or time to transition from the reforms?
The reforms take effect on 1 April 2019 and each physio clinic has until then to adjust their advertised timetables and advise their patients.
What has changed for physiotherapists delivering Pilates-informed exercises?
Physios who are already meeting their obligations as clinicians – such as suitable screening, assessment and record keeping – will continue to be compliant with PHI rules as long their sessions do not solely consist of Pilates exercises and are not scheduled as Pilates.

March 19, 2019
---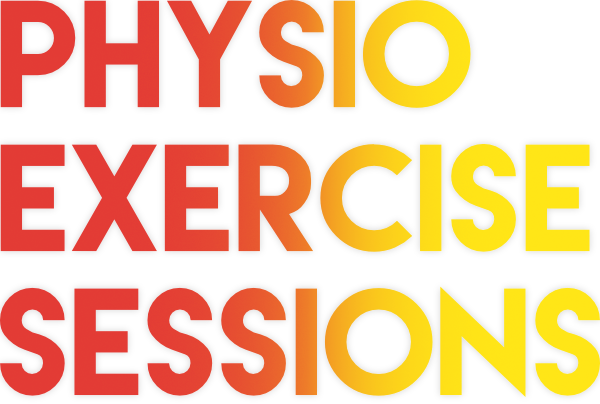 Physio Exercise Sessions (Previously Known As Physio Pilates) are individual to you and your current needs and comprise of various exercises that target problem areas. The session is small- one Physio to a maximum of four participants – this way you will be properly supported and know confidently you're 'doing it right'.

Your Physio's role is part cheerleader, part coach and occasional whip-cracker. We all perform better when we are being encouraged by a professional. Your physiotherapist will meet with you for two initial appointments (each 30mins in duration) prior to commencing exercise sessions. During the first assessment, your Physio will give full attention to your history, your current wellbeing and your goals. This information will allow your Physiotherapist to design your own bespoke program with achievable exercises beneficial for you. The second appointment will be a one-on-one exercise session where you can familiarise yourself with some exercises and our equipment. From there you will book into your sessions of choice. We have over 25 session times available, early morning to late evening, Monday to Saturday.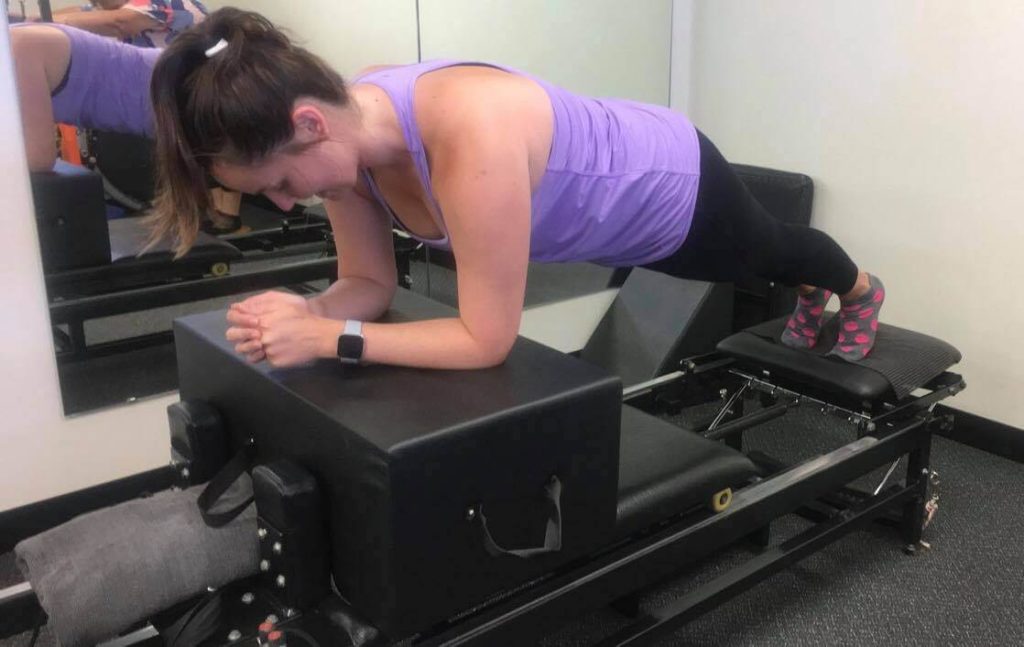 If you would like to know more information, or would like to speak to a Physiotherapist please call us on 9351 8737.
March 18, 2019
---
Due to changes with the body during pregnancy (hormonal, fluid, weight changes), there are numerous musculoskeletal disorders that can develop. Like a lot of conditions, prevention is the key! Being educated and aware of some of these common conditions can reduce the risk of developing pain or can settle it down quickly if early signs of pain are recognised.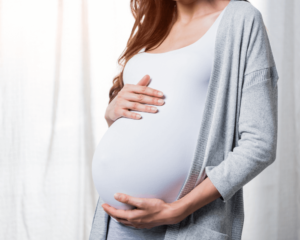 Common areas of pain include:
Pelvic Girdle Pain
Pain can either be at the pubic joint or sacro-illiac joint (central lower pelvis). Commonly felt with 'shearing' type forces like standing on one leg, getting out of the car, walking upstairs, vacuuming and rolling in bed.
Wrist pain 
During pregnancy, carpal tunnel syndrome can be the more common type of wrist pain. This is due to the increased swelling/fluid in the body which takes up space in the tunnel (palm side of the wrist) where there are tendons, vessels and nerves. Symptoms can include pain, numbness/tingling or sometimes weakness in the hand. Postnatally, De Quervains syndrome is more common on the thumb side of the wrist due to repetitive lifting and carrying of the baby.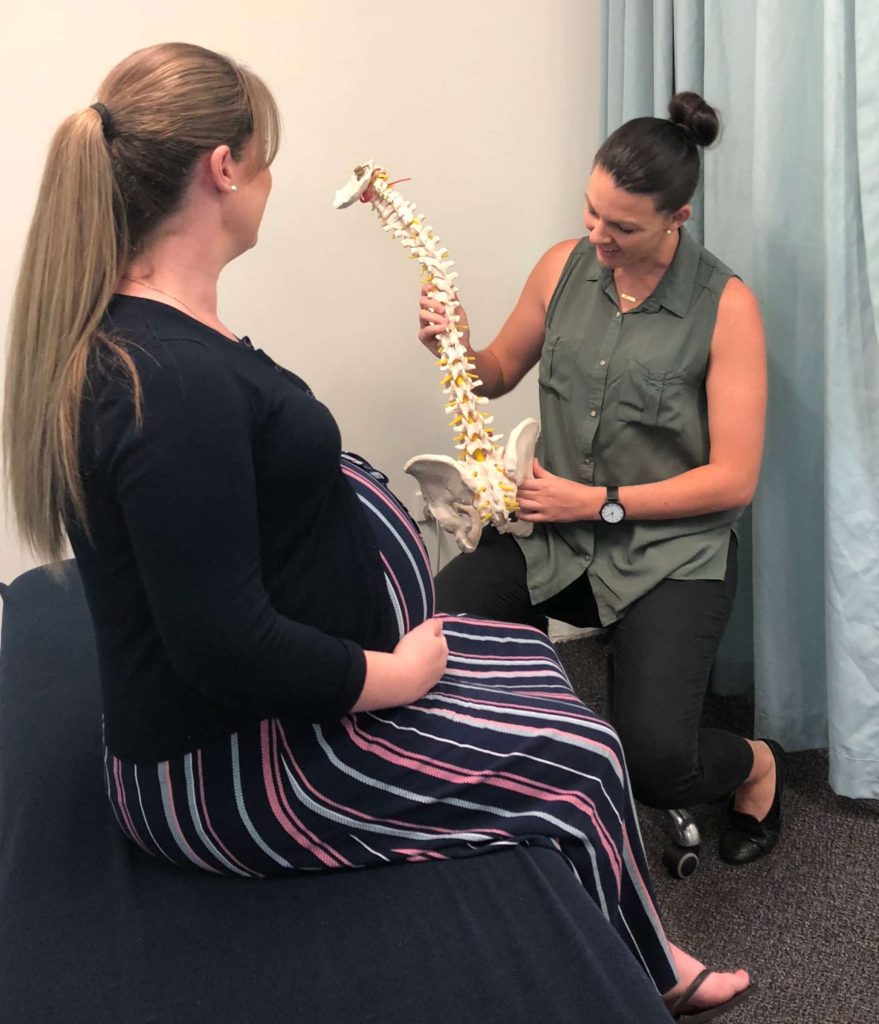 Lower back pain
Pain can be localised to the lower back (lumbar spine) or sometimes can refer into the back of the legs. Usually occurs with prolonged positions (sitting or standing) or repetitive movements. A physio assessment can differentiate whether pain is coming from the spine or from the pelvis.
Thoracic/Rib Pain
As the baby grows, the body needs to make some room! The lower ribs expand to allow for the growing tummy and as the ribs attach to the thoracic spine, this can sometimes cause some stiffness or pain. Thoracic pain can also sometimes be felt with deep breathing. Thoracic pain is also very common after delivery due to carrying the baby and breastfeeding.
Treatment for these conditions can vary depending on how far along in the pregnancy you are, the severity of pain and what is involved in your day to day tasks.
Our physiotherapists can tailor a treatment plan to help you manage your pain throughout the pregnancy and also postnatally. Call today to book an appointment 9351 8737 or you can book online.
November 30, 2018
---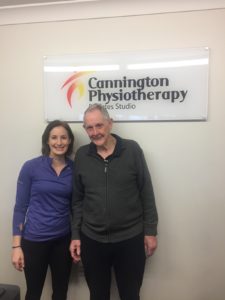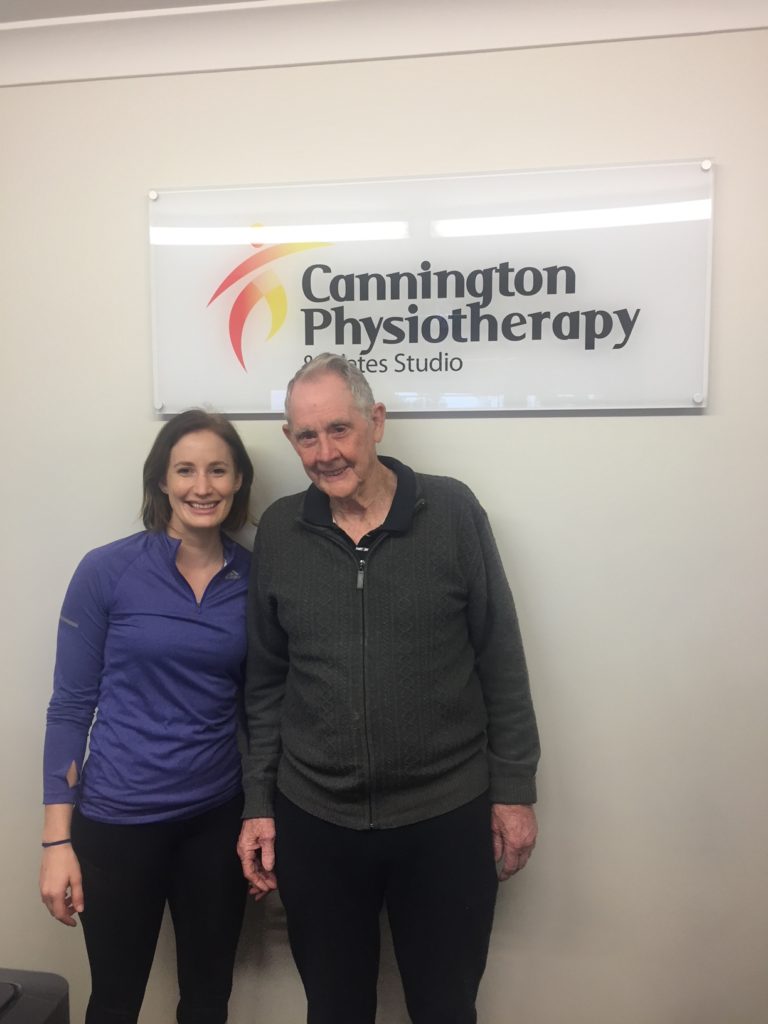 This is George. He has been a patient of ours since 2011. George has always been a regular at our weekly exercise sessions and has always been very diligent at doing his exercises between the sessions at home. He also happens to be quite the handyman and is very creative when it comes to exercises if he doesn't have quite the same equipment he needs at home to carry them out.
George has had quite the year. He had a fall in late 2017 where he suffered a concussion and developed a bleed on the brain. He was frequently dizzy following this and one of the challenges he had to overcome afterwards was regaining his balance and ideally
preventing any further falls (and potential injuries).
George also had shoulder surgery (rotator cuff repair) this year. He has made a speedy recovery, partly due to his compliance with his prescribed exercises. If anything, sometimes we need to remind him not to overdo it!  6 months on, he is managing very well in regards to his shoulder and is starting to get back into working in his shed, one of his favourite hobbies.
As physios, we are always encouraging our patients to do some form of exercise suited to them on a regular basis due to its various benefits. As we grow older and natural age related changes occur, our physical and therefore functional capacity gradually declines. It's important we at least maintain, if not aim improve this capacity so that we can keep mobile and ideally improve our quality of life.
We strongly agree with the theory that if you don't move it you lose it. Despite the challenges George has faced both medically and physically, he has managed to get his physical capacity back to the same level,  if not better. It goes to show it's never too late to get back into exercising in a way that's appropriate to your injuries and goals.
September 3, 2018
---
Dry needling has become more common recently as an effective physiotherapy treatment tool for many musculoskeletal problems. Dry needling is an evidence based treatment that has many known effects and some relatively unknown. As physio's we are often asked- what does it do?
Put simply…
Dry needling is very different to Chinese based acupuncture. Chinese acupuncture aims to restore energy flow as per Eastern medicine beliefs. Dry needling uses the same type of needles, although, we aim to stimulate active trigger points by direct insertion into muscles. When a needle is introduced into this tight area there is often a localised twitch response. The twitch response deactivates the trigger point and the muscle then relaxes. There is also increasing evidence that needling can stimulate the brain's pain relieving chemicals as well as inhibit pain pathway signals.
There are certain medical reasons that occasionally prevent us performing this treatment. If you are interested in receiving dry needling as part of your physiotherapy treatment, ask your physiotherapist and they will determine if it is suitable for you.
If you're not comfortable with the idea of needling, that's OK! Just let the physiotherapist know and I'm sure there are many alternative methods to treat your injury or condition.
June 1, 2018
---
Well it's been a very busy start to 2018 at Cannington Physiotherapy.
The winter sport's season is only weeks away. We trust that you have all been working very hard during pre-season to ensure your body is ready to tackle the season head on and minimize your risk of injury. This is traditionally a very busy time of year for our physiotherapists!
Cannington Physio are proudly supporting the South East Demons State Netball League squad again this year and we wish them all the best for the 2018 season.
We have had many questions from our loyal patients about the recent changes to 'PILATES' cover from Private Health Insurers. Thankfully this will not affect us! Our physiotherapists ensure that all sessions meet the physiotherapy framework and eligible patients can therefore claim under their 'PHYSIOTHERAPY' cover. If you are thinking of starting Physio Pilates, speak to one of our friendly team about booking your Initial Assessment.
Finally we would like to wish our beautiful patients and their families a very happy & safe Easter.
Best Wishes
Ian, Ida and the Staff at Cannington Physiotherapy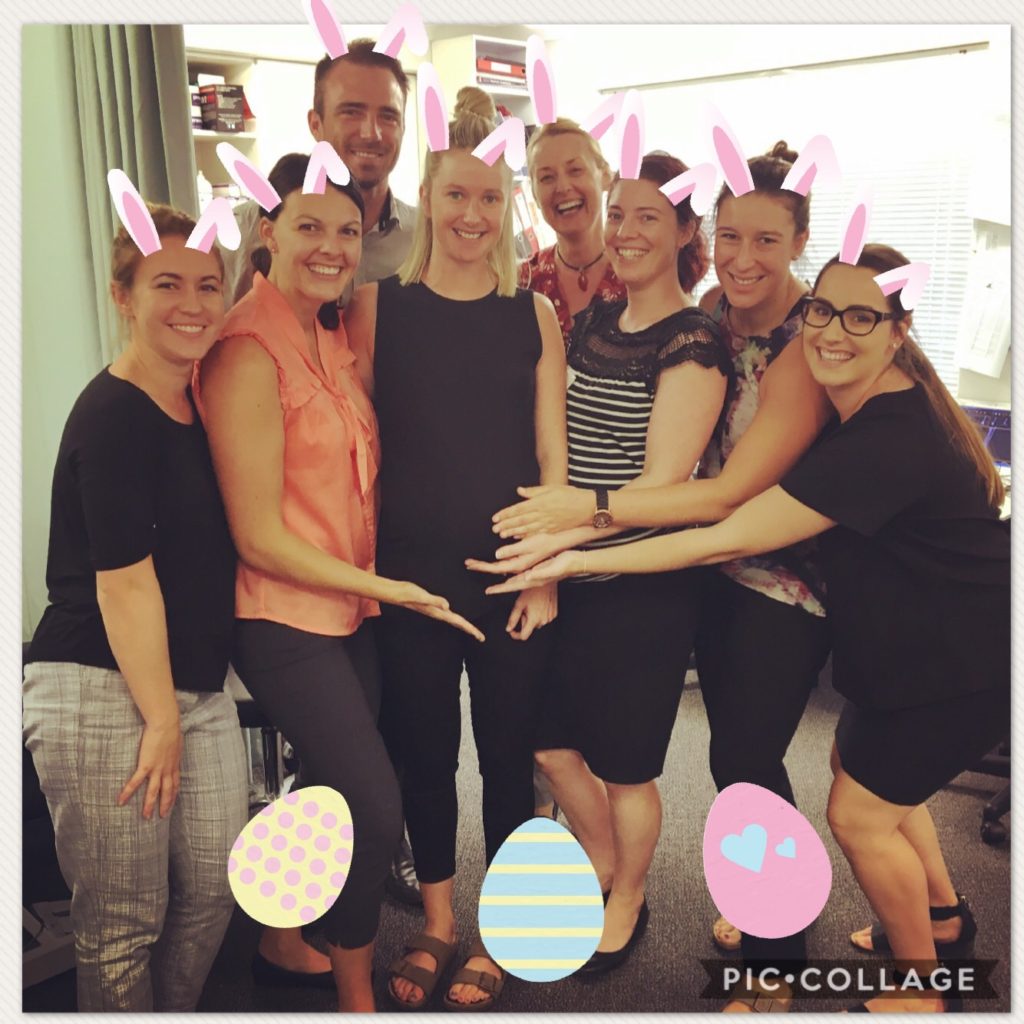 March 28, 2018
---
To our wonderful family at Cannington Physiotherapy,
We wish you all a very Merry Christmas and a Happy New Year! Please stay safe over the holidays and don't forget to keep up with your stretching and Pilates Exercises.
2017 has been an amazing year and we are looking forward to what 2018 has to offer, especially the return of Kelsey a favourite among many loyal patients.
We look forward to seeing you all again in 2018.
Best Wishes
Ian, Ida and the Staff at Cannington Physiotherapy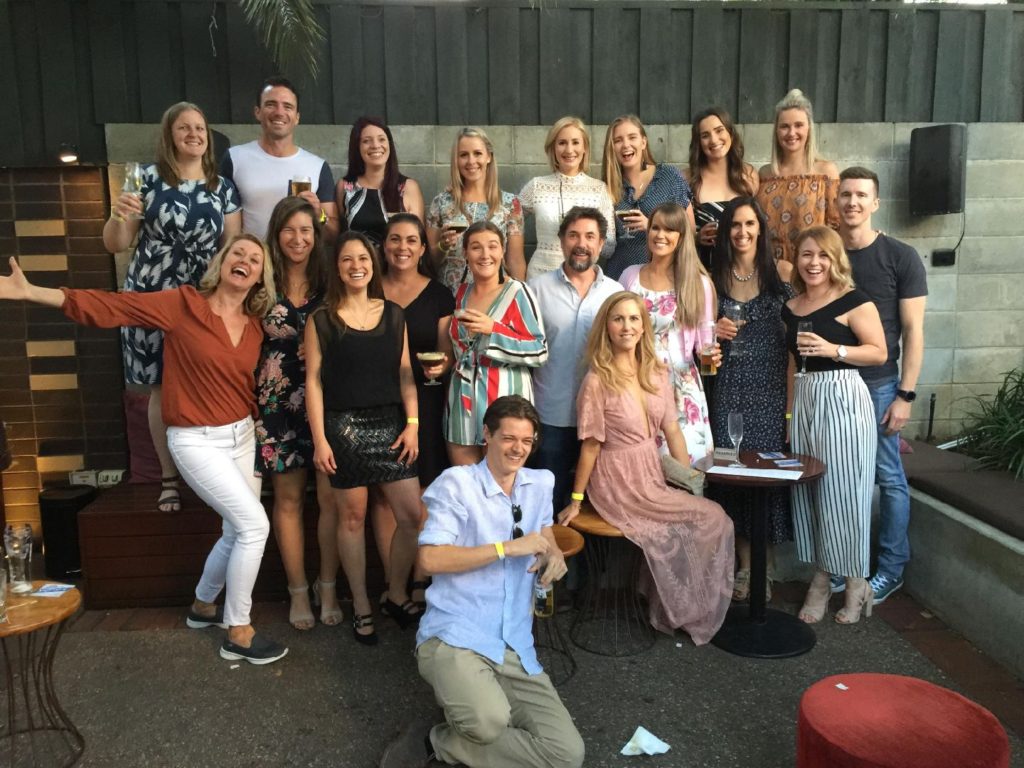 December 18, 2017
---
Jackeline Gartrell is the newest member of the Cannington Physiotherapy Staff taking on the role as our Remedial Massage Therapist. Jackie has over ten years' experience and is a qualified Physiotherapist in her home of Brazil. Jackie is available for appointments on Tuesday, Thursday and Saturday.
If you're not sure what a Remedial Massage Therapist does here is a quick summary;
Massage therapy recognises and values the healing properties of touch and is a very safe and non-invasive form of treatment. Massage therapists use a number of different hands-on techniques to diagnose and treat underlying conditions and problems. Treatment focuses on the soft tissues of the body including muscles, tendons, ligaments and fascia to help you perform at your peak.
Each treatment is tailored to the patients' presenting complaints and a treatment plan is devised including appropriate changed in lifestyle, work practice or exercise. Here at Cannington Physiotherapy our Massage therapist works closely with our physiotherapists to gain the best results for each patient.
Cannington Physiotherapy offers 60 minute consultations with our highly trained therapist. During your initial consultation a brief history is taken and full assessment of joint range of motion and muscle length is performed. This enables our therapist to design and implement a specific treatment plan to best suit your individual goals and needs.
If you have any questions or would like to book an appointment with Jackie please click on the link above or call (08) 9351 8737.
October 22, 2017
---
Did you know that GP's refer to Physiotherapists more than any other Health Professional?
Physiotherapists are pretty talented people (even if we do say so ourselves) but despite this a lot of people are unsure when to see a physio or how physiotherapy may help them. Fortunately the Australian Physiotherapy Association has recently developed a website that is designed to help answer these very questions.
Here at Cannington Physiotherapy we thrive on helping people reach their goals and live a happier pain free life. So if you are unsure whether Physiotherapy may be appropriate for you head over to

www.choose.physio
Alternatively if you would prefer to speak directly with one of our therapists you can call Cannington Physiotherapy on (08) 9351 8737
September 17, 2017
---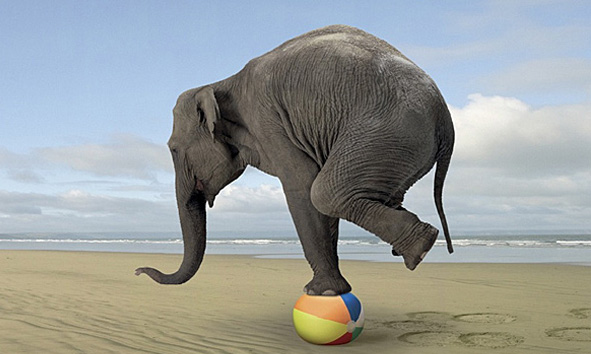 Cannington Physiotherapy would like to welcome you to the first in a series of videos that we will be uploading over the next few months. Each video will be based around a different stretch or exercise. These videos will be found on our homepage, YouTube and Facebook page and we will provide some back ground information here.
Our first topic is Balance and some of you may recognise our balance extraordinaire
Balance is the ability to control your body's position, whether stationary or while moving.
Balance training is often neglected when people are developing their exercise or sporting regime.  This may be because they don't understand the benefits of balance training.
Balance is a key component of fitness, along with strength, endurance, and flexibility. Balance is essential in preventing falls as people age, as well as for every day functional tasks such as reaching up to get something from the cupboard, or walking on uneven ground. In the sporting population, balance is pivotal in attaining the skills used to change direction, maintain a position or complete relevant skills such as kicking a ball.
There are various ways to perform balance exercises. Equipment like a stability ball, BOSU ball, or balance board can be incorporated.
Also don't forget to check back from time to time as we continue to update our videos.
June 21, 2017
---
← Older posts