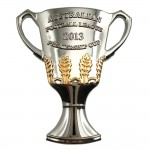 AFL, rugby and soccer finals are upon us!
Whether your team has been successful enough to make the finals or not, by making an appointment with one of our physiotherapists, you can have your injury diagnosed and managed effectively. With effective treatment, advice and exercise prescription, we will ensure that you make a timely return to the training field, and give you the best opportunity to perform at your peak this finals series.
So, if you have sustained an injury this sporting season, don't wait for the pain to worsen, give one of our friendly staff members a call on 9351 8737 and ask how our physiotherapists can assist you.