The school year is well underway & we would like to provide a few physiotherapy suggestions to ensure your kids get off on the right foot.
A common question we get asked is the correlation between backpacks and back health. For some time, it has been a popular opinion that the weight and type of backpack that your child carries could potentially lead to back pain. However, the Australian Physiotherapy Association (APA) is urging parents not to be concerned with their children carrying a backpack of moderate weight. Studies have demonstrated that there is no link between back pain and the weight of backpack. In fact, weight-bearing activity such as carrying a backpack can help prevent back pain in adolescence. It has been shown that backpacks, even reasonably heavy ones don't necessarily damage the spine.
When choosing a backpack for your child, look for the following:
wide shoulder straps that sit well on the shoulder
waist and chest straps help transfer some of the load to the hips and pelvis
padded back-support to allow the pack to fit 'snuggly' on the back
a backpack that fits your child correctly – don't buy a backpack to 'grow' into.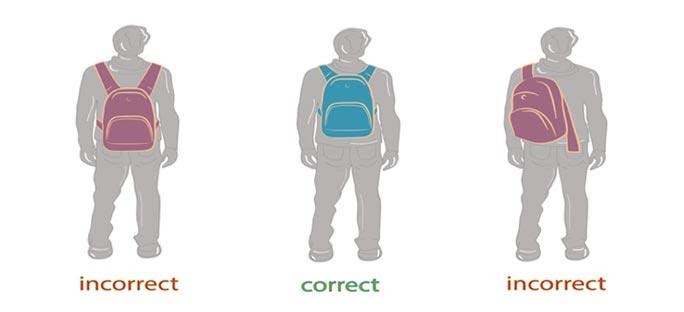 Following on from school bags is footwear. A child's school shoes need to be supportive, appropriate, and comfortable. Tips for good school shoes include:
a firm heel to hold the foot in place and support the foot
the shoe should have minimal movement when twisted to prevent the foot rolling in or out
the shoe should bend at the toes where the foot naturally bends, not in the middle
and the shoe should fit correctly, too much or too little room will affect comfort and support.
The APA have officially endorsed the following companies who sell school products for kids.. Ascent Footwear has a range of school shoes available exclusively through The Athlete's Foot stores, and Spartan School Supplies have backpacks available via its website.

Lastly, physical activity has been shown to improve a child's physical, mental, and social health. In Australia, the rate of obesity in children and adolescents has increased dramatically in the last decade. Kids are leading more sedentary lifestyles with increased sitting and screen time. Studies have also shown that 80% of primary school-aged children do not meet the minimum requirements of an hour of moderate to vigorous physical activity each day.
The Australian government has created physical activity guidelines that should be followed to ensure children lead a healthy lifestyle. For 5-12 year olds:
limit the use of electronic media to no more than two hours per day
if sitting for long periods, kids should be encouraged to have regular movement breaks
children should spend at least 60 minutes per day of moderate to vigorous activity, including muscle and bone strength exercises three times per week.
Given this information, physiotherapists are urging parents to facilitate participation in physical activity for their children, whether it is organised sports, outdoor recreational pursuits, active play and active transport such bike riding, skateboarding and walking. Participating in such activities improves strength and coordination in order to assist with physical, social and emotional health, and to improve academic performance.
If parents are concerned about any aspect of their child's back health, physical activity levels, pain or injuries, they should contact a physiotherapist to discuss treatment and management ideas. Stay tuned for our next blog which will include information regarding sporting injuries in adolescence.